Contact Us
Water & Sewer Utility
1 NW Martin Luther King Jr Blvd
Civic Center Complex, Room 104
Evansville, IN 47708
Get Directions
|
Location Details
Phone: (812) 436-7846
Hours: M - F 7:30 a.m. - 4:30 p.m.
In This Department
Department Home
More Information
2016 Water Rate Increase
On October 5, 2016, the Indiana Utility Regulatory Commission (IURC) approved the Evansville Water and Sewer Utility's request to increase Evansville's water rates in two phases.
The first increase is 26 percent and will appear on customers' water and sewer utility bills beginning November 7,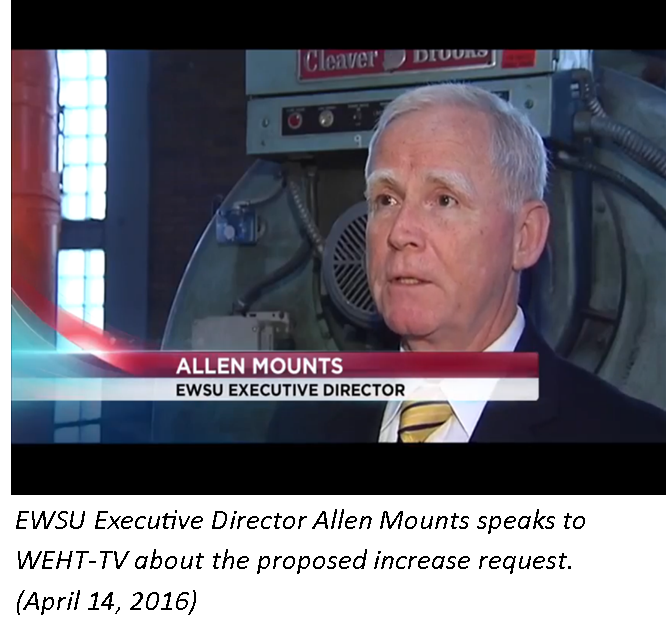 2016. Rates will increase again 16 percent on January 1, 2018.
Typical in-city residential customers who use 4,000-gallons per month will see an increase from $18.97 to $23.98 for the remainder of 2016 and 2017, and then to $27.86 on January 1, 2018.
Objective one of the rate increase is to strengthen the financial position of the Utility.
Objective two is to implement a long-term refresh strategy to replace aging and end-of-life water mains.
Objective three is to fund the evaluation, design and preliminary development of an alternative water treatment solution.
EWSU's 2017 and 2018 operating budget allocates 55 percent for capital improvements, 33 percent for operating expenses and 9 percent to replace the loss of revenue due mainly to water conservation.
A January 2016 study of 356 Indiana communities reveals that, even with the rate increases, EWSU's rates are lower than many comparable communities.