Contact Us
Water & Sewer Utility
1 NW Martin Luther King Jr Blvd
Civic Center Complex, Room 104
Evansville, IN 47708
Get Directions
|
Location Details
Phone: (812) 424-3345
Hours: M - F 7:30 a.m. - 4:30 p.m.
In This Department
Topics of Interest
Department Home
More Information
Trash, Recycling, and Street Sweeping
New Trash and Recycling Cart Rules in Effect
Trash & Recycling pickup times may change occasionally. To ensure pickup at your location, please have your cart(s) at the curb or other assigned pickup location, no later than 6 a.m. on the scheduled pickup day.
An amendment has been made to the Evansville Municipal Code regarding carts left out on properties. The new rules and associated fines may be found here.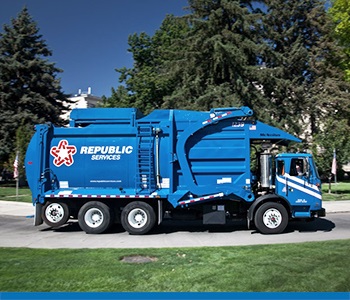 The Evansville Water and Sewer Utility manages the City's residential trash and recycling services, which are operated by Republic Services of Evansville. Those services also include spring yard service, heavy trash, Christmas tree pickup, fall leaves collection and street sweeping.
The current trash and recycling regular program only allows for the emptying of one (1) trash and one (1) recycling cart which are supplied by the City. Extra materials outside the carts will not be picked up except during the Spring Yard Waste Service four (4) week period (the first four full weeks of April) and the Fall Leaf Collection eight (8) week period (mid-October to mid-December).
We encourage residents to recycle as much as possible to reduce the amount of waste going into our landfill, save trees by recycling paper products, and protect the ecosystem by keeping waste out of the environment. If you require additional service for trash or recycling, you may contact Republic Service's Customer Service desk at (812) 424-3345. A one-time service fee of $100 will be charged per request, which entitles you to additional service at no additional monthly cost. The City of Evansville will supply an additional Cart with each request. Please note that only City of Evansville-supplied carts will be emptied.
In Evansville, Republic Services provides trash and recycling services using an automated cart system.
View All News