Contact Us
Water & Sewer Utility
1 NW Martin Luther King Jr Blvd
Civic Center Complex, Room 104
Evansville, IN 47708
Get Directions
|
Location Details
Phone: (812) 421-2120 x 2236
Hours: M - F 7:30 a.m. - 4:30 p.m.
In This Department
Topics of Interest
Department Home
More Information
Engineering Department
The Engineering Department provides several functions assisting Utility operations, regulatory compliance, and administration.
We are located downtown at 1 SE 9th Street Suite 200 in the ETFCU Plaza. We have 26 employees.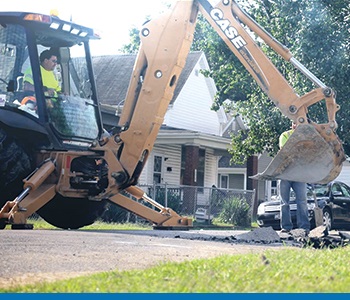 Some of our activities include:
Record Drawing Management
Developer Coordination
Site Improvement Application Review
Water and Sewer Design
Easement and Property Acquisition
New Facility Inspection
Master Planning
Municipal Agency Coordination
Facility Condition Inspection and Assessment
Facility Asset Management
The department also oversees several items completed contractually. They include:
Facility Locating
Sewer Extension Inspection
Consent Decree Program Management
Capital Project Design, Construction, & Construction Oversight
Please feel free to contact us by phone: (812) 421-2120 ext. 2236
Upcoming Consultant Needs
Request for Proposal and Sole Source Selection Project List: 18-Month Contract Outlook (Updated October 2019)
2019 Contractors Outreach
2019 Water and Sewer Contractor Outreach
2019 Water and Sewer Contractor Sign-In Sheet
Capital Planning - Plan Room Distribution List
Electronic Plan Room Access:
In order to access the project plan room a payment of $50 will be collected. To get started, please click Here. Once the $50 deposit has been verified then user credentials will be provided for full project access.
Electronic Plan Room login link:
If you already have credentials to the electronic plan room then Click Here
EWSU Green Infrastructure Cost Participation Policy
The GI Cost Participation Policy provides supplemental monetary incentives to include green infrastructure storm water redirection techniques into redevelopment or rehabilitation projects within targeted sewer sub-basins to strategically reduce combination sewer overflow volumes.
Please read the Policy here.
2020 Green Infrastructure Call for Projects
Green Infrastructure Opportunity Map
Detail Drawings
Contractors who need detail drawings for approved water/sewer connections can find them below.
Water Standard Detail Drawings
Sewer Standard Detail Drawings
Manuals and Guides
EWSU works diligently to improve the guidance provided for interactions with all customers through the development of manuals and guides.
The resources below provide information for the planning, design, and construction of sanitary sewer collection systems and water distribution systems. Additionally, guides are provided regarding the various roles, rules and responsibilities of the EWSU and its residential, commercial, industrial and public authority customers.