Contact Us
Animal Care & Control Shelter
815 Uhlhorn St
Evansville, IN 47710
Get Directions
|
Location Details
Phone: (812) 435-6015
Fax: (812) 435-6273
Hours: OFFICE HOURS
Monday-Saturday 10:00 AM to 5:00 PM
Sunday CLOSED

In This Department
Topics of Interest
Department Home
Wildlife
Living in harmony with wildlife in our community often poses some challenging situations to citizens.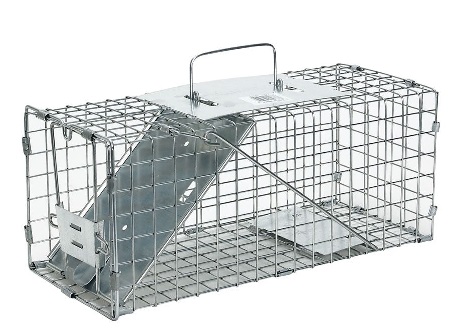 HUMANE LIVE TRAPS
To humanely trap a wild animal, such as a racoon, fox or opossum, citizens can rent appropriate Live Traps for up to 2 weeks from Evansville Animal Care & Control.
RENTAL FEE - $5 for 2 week-rental
DEPOSIT - $70, cash only

Deposit is forfeited if the trap is not returned within the 2-week time rental period.

Traps can only be used when the outdoor temperature is above freezing at 32 degrees F.
Traps cannot be set if the temperature is below 32 degrees.
In warmer months, place the trap out of direct sunlight.
Traps must be checked every 12 hours.
When a wild animal has been trapped, DO NOT handle the animal - wild animals will bite.
The Indiana Department of Natural Resources allows landowners to trap and relocate (with permission) nuisance animals.
Skunks
Skunks caught in Live Traps will not be relocated. If skunks are caught in a Live Trap Evansville Animal Care & Control will release them where they were trapped. Relocation of skunks transfers the problem to another area.
Skunks have excellent navigational skills and frequently find their way "home" after being trapped. It's important to keep pet food and trash put away and to remove potential den areas that encourage skunks to take up residence.
Remember - When a wild animal such as a raccoon or opossum is removed from your property, another one will probably take its place. It's important to take steps to prevent further problems.
Keep trash cans tightly sealed.
Pick-up dog and cat food that is outdoors, especially at night.
A small bowl of ammonia placed near a trashcan will help deter wild animals.
Play a radio near the area at night.
For more information on wildlife issues, visit the Indiana Department of Natural Resources' Wildlife website.
----------------------------------------------------------------------------------------------------------------
WILDLIFE
Ducks

Evansville Animal Care & Control is not permitted by law to remove ducks or ducklings, unless they are injured. If ducks and ducklings are in the road or parking lots officers are allowed only to get the ducks out of the way of traffic. Animal Control Officers respond to multiple calls every spring when ducklings fall into drains. When ducklings are recovered from drains they are reunited with the mother duck when possible.

Geese
Bees

Evansville Animal Care & Control does not handle bee swarms or hives, but there are individuals in Vanderburgh County who do.
----------------------------------------------------------------------------------------------------------------
RODENTS
Evansville Animal Care & Control does not handle rat, mouse, or other rodent problems.