Contact Us
Phone: (812) 436-7846
Hours: M - F 7:30 a.m. - 4:30 p.m.
In This Department
Topics of Interest
Department Home
Sewer Rate Increase
Why Sewer Rates are Going Up
The Evansville Water and Sewer Utility will be raising sewer rates in the coming years to comply with federal mandates and to fix existing infrastructure. The first rate increase will go into effect on January 1, 2017, and rates will increase each year through 2020.
Through Renew Evansville, EWSU is meeting federal mandates to reduce water pollution and combined sewer overflows, plus create sustainable "green" solutions.
We are also repairing and maintaining Evansville's sewer lines and wastewater treatment plants, and beginning the preliminary work on Bee Slough.
These projects require about $185 million in capital.
How will these increases affect my bill?
Starting in January, the average residential customer who uses 4,000 gallons a month can expect the following changes to their bill: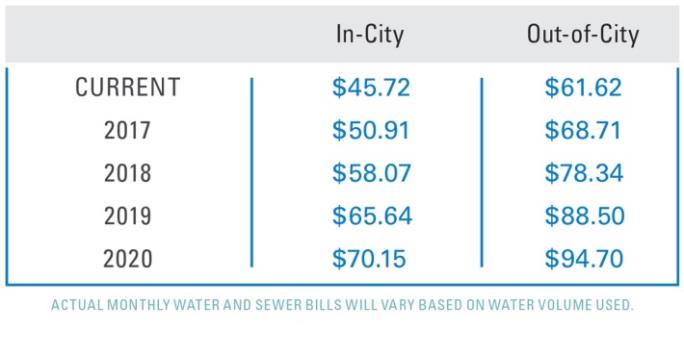 Industrial and public authority customers can get more information about how these increases will affect their rates here.