Contact Us
Water & Sewer Utility
1 NW Martin Luther King Jr Blvd
Civic Center Complex, Room 104
Evansville, IN 47708
Get Directions
|
Location Details
Phone: (812) 424-3345
Hours: M - F 7:30 a.m. - 4:30 p.m.
In This Department
Topics of Interest
Department Home
More Information
Recycling
Evansville provides a convenient single-streamed recycling program.
Trash & Recycling pickup times may change occasionally. To ensure pickup at your location, please have your cart(s) at the curb or other assigned pickup location, no later than 6 a.m. on the scheduled pickup day.
That means you don't need to sort your recyclables. They can all go into the same cart. All eligible recycled materials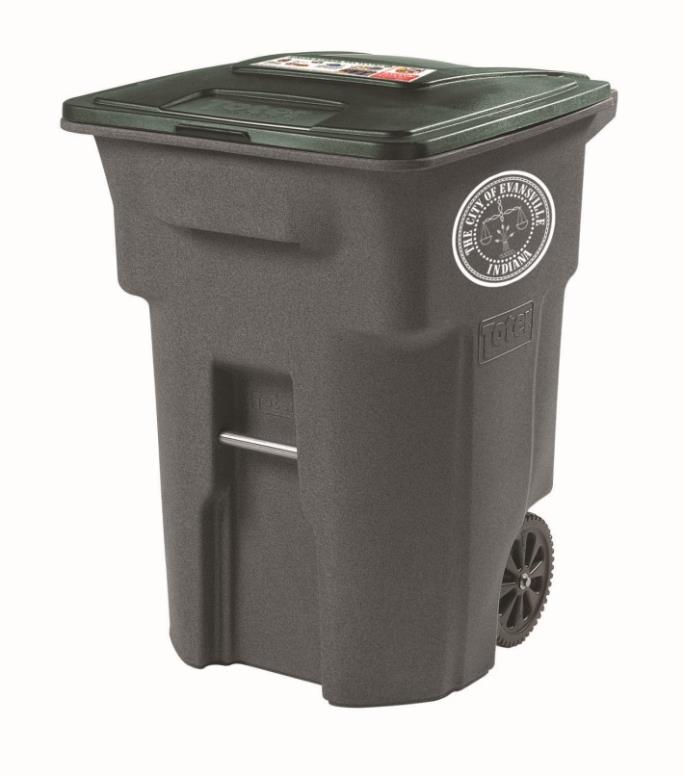 should be placed into the 96-gallon green-lid cart provided by Republic Services. A 48-gallon cart is available upon request.

Collection of recyclables occurs every other week. Please place your new recycling cart at the same location where your trash is picked up. For additional information, please see our FAQs page.
If you require additional service for trash or recycling, you may contact Republic Service's Customer Service desk at (812) 424-3345. A one-time service fee of $100 will be charged per request, which entitles you to additional service at no additional monthly cost. The City of Evansville will supply an additional cart with each request. Please note that only City of Evansville-supplied carts will be emptied.