Contact Us
Assistant: (812) 436-7846
Hours: M - F 7:30 a.m. - 4:30 p.m.
In This Department
Topics of Interest
Department Home
More Information
EWSU Get the Drop! Newsletter
EWSU Newsletters
Please click an image below to view desired newsletter.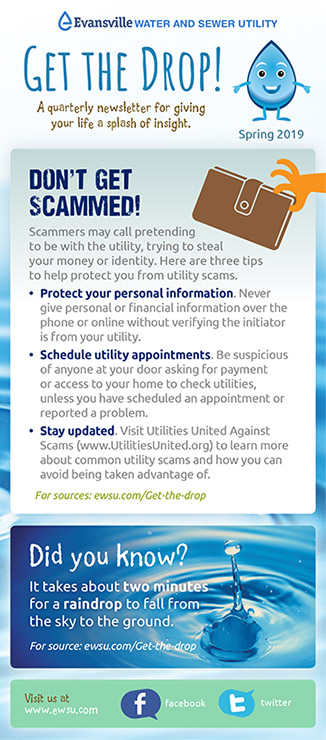 Spring 2019 Newsletter
Sources:
Don't Get Scammed! Did You Know? Wetland Creature Clues Smart Irrigation Month Flooding Or A Leak? Tornado Season Prep Look Out for Leaks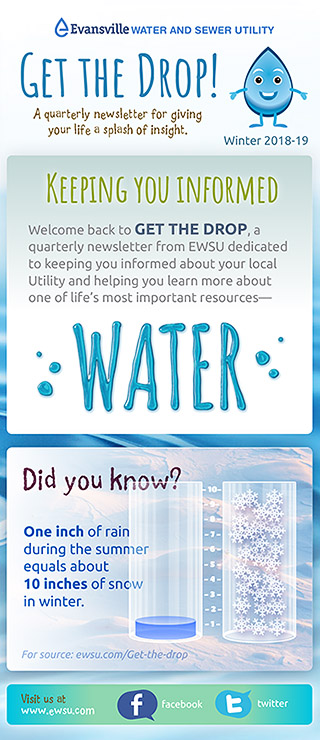 Winter 2018-19 Newsletter
Sources:
Pipe Prep Should I Water My Garden in the Winter? Winter Fruit Salad Staying Hydrated This Winter Did You Know?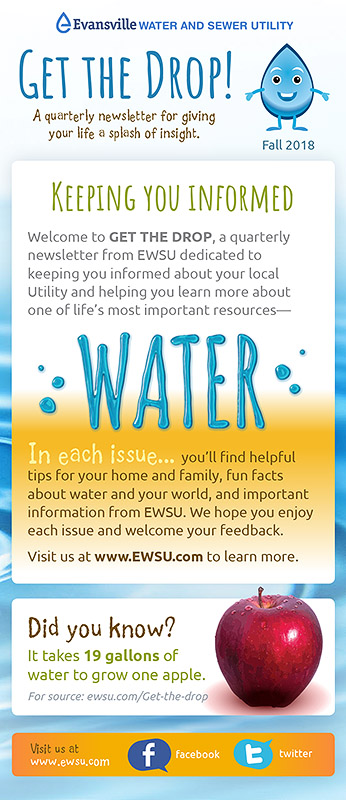 Fall 2018 Newsletter
Sources:
Choose Tap Water
Winter Weather Prep
Did You Know?
All About Water! ACROSS 1. Glacier 3. Liquid 4. Loam 6. Sailor 7. Saltwater 8. Fog 10. Fifty 11. Barrier 14. Expands 16. Lake 17. Niagara DOWN 1. Gallon 2. Hydrogen 5. Missouri 9. Ocean 10. Freeze 12. Rain 13. Brain 15. Steam