Contact Us
Water & Sewer Utility
1 NW Martin Luther King Jr Blvd
Civic Center Complex, Room 104
Evansville, IN 47708
Get Directions
|
Location Details
Phone: (812) 436-7846
Hours: M - F 7:30 a.m. - 4:30 p.m.
In This Department
Topics of Interest
Department Home
More Information
Lead and Evansville's Water System
What is lead?
Lead is a naturally occurring metal that is harmful if inhaled or swallowed. Lead can be found in air, soil, dust, food and water.
How can I be exposed to lead?
The most common source of lead exposure is from paint in homes and buildings built before 1978, when lead-based paints were banned for use in housing. Lead-based paint and lead-contaminated dust are the main sources of exposure for lead in U.S. children.
Although the main sources of lead exposure are ingesting paint chips and inhaling dust, lead may also be found in some household plumbing materials and some water service lines.
The Environmental Protection Agency (EPA) estimates that 10 to 20 percent of human lead exposure may come from drinking water, and infants who consume mostly mixed formula can receive 40 to 60 percent of their exposure from lead in drinking water.
How do I know if my home has lead plumbing?
Homes built before the 1950s may have lead pipes that connect the house with the water line. In 1986, Congress enacted the "lead ban," which required all public water systems – and all plumbing connected to it – be constructed of lead-free materials. No EWSU service lines contain lead. If your home was after 1988, it is far less likely to have lead pipes or solder, or connecting joints.
The EPA defines high-risk homes as follows:
Homes with a lead service line that connects the water main (located under the street) to your home's internal plumbing
Homes with copper pipe and lead solder built between 1982 and 1988
Homes with lead pipes
Lead is a dull gray metal that is soft enough to be easily scratched with a house key. A quick way to identify lead pipe or solder is to use a magnet. If a magnet sticks to the pipe or solder, it is not lead. Lead service lines can be connected to the residential plumbing using solder and have a characteristic solder "bulb" at the end, a compression fitting or other connector made of galvanized iron or brass/bronze.
If you suspect you have lead pipes or lead service connections, call a licensed plumber to have your water lines and connections inspected.
How do I know what portion of the system is my responsibility?
A private water line pipe extends to the property line and includes the water meter pit. The Utility has a separate shut off valve (called a curb stop) located at the property line and public right of way. The diagram below is an illustration showing which parts of the water lines are private or public.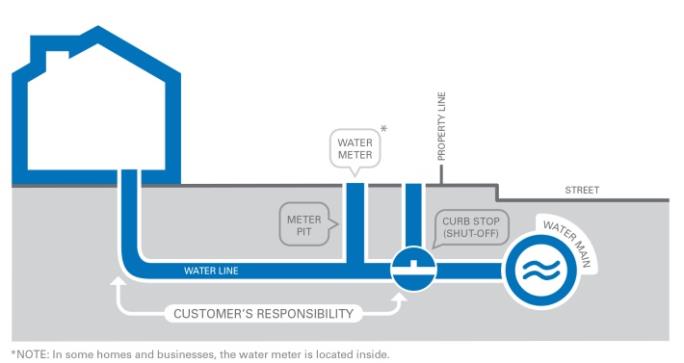 If my service line has lead, will EWSU replace it?
Lead services lines on a customer's property are not part of the public water system and are the responsibility of the property owner. Lead service lines are owned and installed at the expense of the property owner. EWSU strongly advises that you contact a licensed plumber for work on your service line.
American Water Works Association (AWWA) has provided written permission to use information in the AWWA publication "Service Lines: A Guide for Water Systems Addressing Service Line Repair and Replacement."
EWSU also thanks the District of Columbia Water and Sewer Authority (DC Water) for giving written permission to use content from their web page Understanding Lead and Water to assist us in the preparation of this website and FAQs.