Contact Us
Water & Sewer Utility
1 NW Martin Luther King Jr Blvd
Civic Center Complex, Room 104
Evansville, IN 47708
Get Directions
|
Location Details
Phone: (812) 436-7846
Hours: M - F 7:30 a.m. - 4:30 p.m.
In This Department
Topics of Interest
Department Home
Combined Sewer Overflows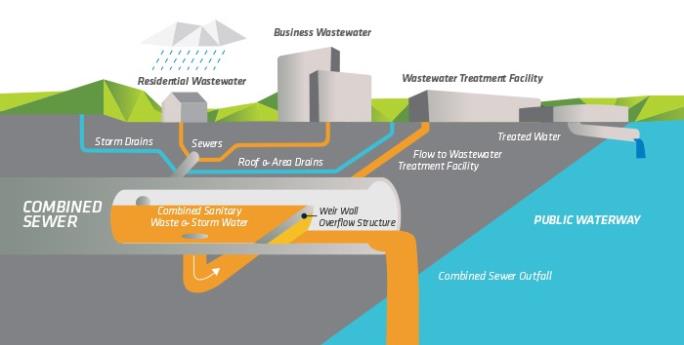 Storm water and wastewater combine in sewer pipes in portions of Evansville. When the sewer becomes too full due to heavy rains, the sewer pipes can overflow—instances we call Combined Sewer Overflows, or CSOs—and enter the Ohio River and Pigeon Creek. CSOs contain municipal and industrial wastes, floating debris and disease-causing pathogens, and other contaminants. Reducing these overflows will greatly improve water quality. Through Renew Evansville, the City has finalized a plan to eliminate almost all CSOs.
Evansville currently captures approximately 35% of wet-weather flow and averages 50 overflows each year. The planned projects through Renew Evansville will help capture 98 percent of that flow and have no more than four overflows a year.
In 1994 the EPA issued the National CSO Policy, which was incorporated into Section 402(a) of the Clean Water Act. The Clean Water Act, enforced by EPA and IDEM, mandates the control of sewer overflows across Indiana. Approximately 10 cities in Indiana, including Evansville, entered into a consent decree—a binding legal agreement—with the EPA, DOJ, and IDEM to comply with the CSO policy. The Renew Evansville projects will help ensure the City's compliance with this policy.
Learn more about combined sewer overflows and the pollution they introduce into our waterways in this video: