Contact Us
Water & Sewer Utility
1 NW Martin Luther King Jr Blvd
Civic Center Complex, Room 104
Evansville, IN 47708
Get Directions
|
Location Details
Phone: (812) 436-7846
Hours: M - F 7:30 a.m. - 4:30 p.m.
In This Department
Topics of Interest
Department Home
Map and Timeline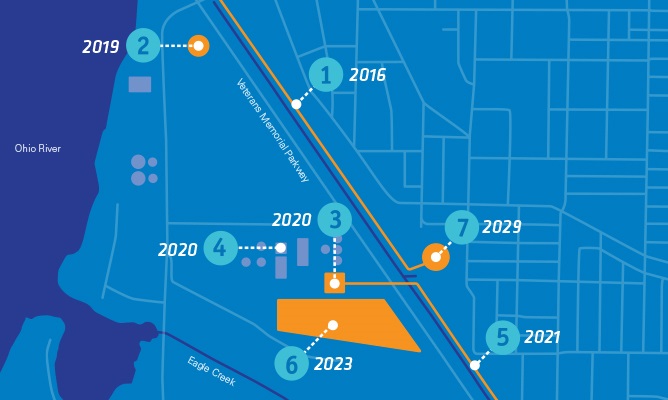 2016
An interceptor, or large sewer pipe, will allow more capacity to prevent overflows. It will add inlets to the paved section of Bee Slough, taking sewage to the treatment plant to be treated before re-entering the slough.
2019
A new pump station near Sunset Park will allow treated water to enter the Ohio River, instead of circling back into Bee Slough, reducing the length of time water will sit in the slough.
2020
A pump station will be constructed to pump the CSO water from the concrete ditch into the planned wetland area.
2020
The East Wastewater Treatment Plant's capacity will increase to 40 million gallons a day, allowing more wastewater to be treated immediately, rather than being held in Bee Slough.
2021
A 9-foot pipe will be constructed under Bee Slough, transporting wastewater to the wetland pump station, keeping CSOs from ending up in the slough.
2023
A 42 million-gallon wetland will be created to clean wastewater naturally, with no chemicals. A disinfection system will be constructed at the end of the wetland to eliminate E. coli and other bacteria before the water enters Bee Slough.
2029
A vertical treatment unit, or VTU, will be built to collect any CSOs from the new sewer line, direct them to a holding tank, then disinfect the water before it's released into the slough.