Vanderburgh County Court
Welcome to the Vanderburgh County Judicial System Department
The Courts are located in the Civic Center Complex which is in downtown Evansville, seven blocks North of the River. To the right is a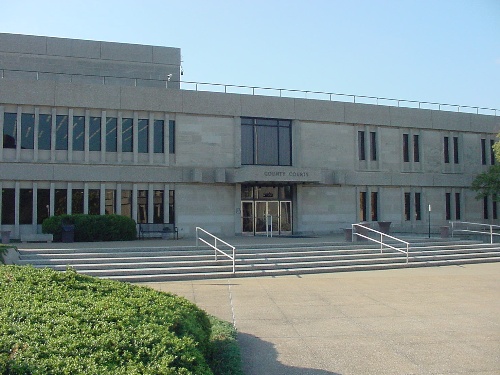 picture of the primary Court Building; however, the Judicial System also has offices and courtrooms in the Administration Building as well.
The Courts average between 55,000 and 60,000 new cases each year which is over 4% of the State's total new filings. Additionally, our Courts handle about 16,000 to 18,000 supplemental filings each year. Over the past ten years our courts have seen new filings increase on average about 2.5% each year which is higher than the average increase of 1.8% for the State's total new filings. Vanderburgh County's new filings is the fifth largest of the State's 92 Counties.
The Courts presently maintains nearly two decades of electronic court records. Our Courts' and Clerk's staff average about 3,600 docket entries touching over 2,300 cases daily. These statistics do not include the work performed in the Prosecutor's, Public Defender's, nor Probation Offices.
The Vanderburgh County Judicial System is an organization of the Offices in Title 33 of the Indiana Code and consists of the Circuit Court, Superior Court, Clerk of Court, Prosecutor's Office and the Public Defender. For more information about the different offices select the office's from the list below.
---
Circuit Court Superior Court Clerk of Court Prosecutor's Office Public Defender
---
Useful Links