Carpenter Court Ribbon-Cutting Celebrates Transformation of Former Catholic School into Innovative Affordable Housing
(October 22, 2018) Mayor Lloyd Winnecke joined other area community and business leaders for a ribbon-cutting ceremony at the new Carpenter Court Apartment building at 607 E. Iowa Street. This innovative affordable housing development represents the complete transformation of the former St. Joseph Catholic School building.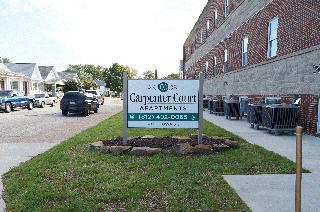 The school was previously owned by the Catholic Diocese of Evansville and can be recognized by its distinctive green roof. The original terrazzo floors and light-green glazed block hallways were preserved in many areas throughout the building. What was previously the gymnasium and auditorium area now contain two floors of apartments.
This 45-unit complex includes 12 one-bedroom units, 28 two-bedroom units and five three-bedroom units. The apartments are restricted to tenants earning 30%-60% of Area Median Income (AMI) with rents ranging from $298 to $720 a month.
Carpenter Court units include dishwashers, garbage disposals, microwaves, washer/dryer hook-ups and other amenities. The development will also include a management office, off-street parking, playground, laundry room, community room with sitting area with TV, kitchenette and library.
Additionally, a Head Start facility, which will be offered by CAPE, will be located on the first floor. WorkOne, Carver Community Organization, Meals on Wheels, SWIRCA, Hope of Evansville, Visiting Nurse Plus, ECHO, Memorial CDC and the Dream Center are other organizations that will serve tenants living in the facility.
Old National Bank provided the construction and permanent loans for the project. Through its subsidiary ONB Community Equity, Old National also provided a $6.7 million Low Income Housing Tax Credit (LIHTC) direct equity investment. The project received an allocation of LIHTC tax credits in 2017 from Indiana Housing and Community Development Authority (IHCDA).
Other partners in the project include:
City of Evansville
Pioneer Development Services
Keller Development
GAGE
Catholic Diocese of Evansville
Keller Construction
Architecture Plus Corporation
Moynahan Williams
Ritzert Co., Inc.
Neikirk Engineering