Tree Mitigation Project Enhances Gateway into Downtown Evansville
(November 1, 2019) The Downtown Evansville Economic Improvement District (EID), in partnership with the Evansville Water and Sewer Utility and Keep Evansville Beautiful, today announced the completion of a newly landscaped entry into Downtown Evansville. Sixty-two trees have been planted along Fulton Avenue between the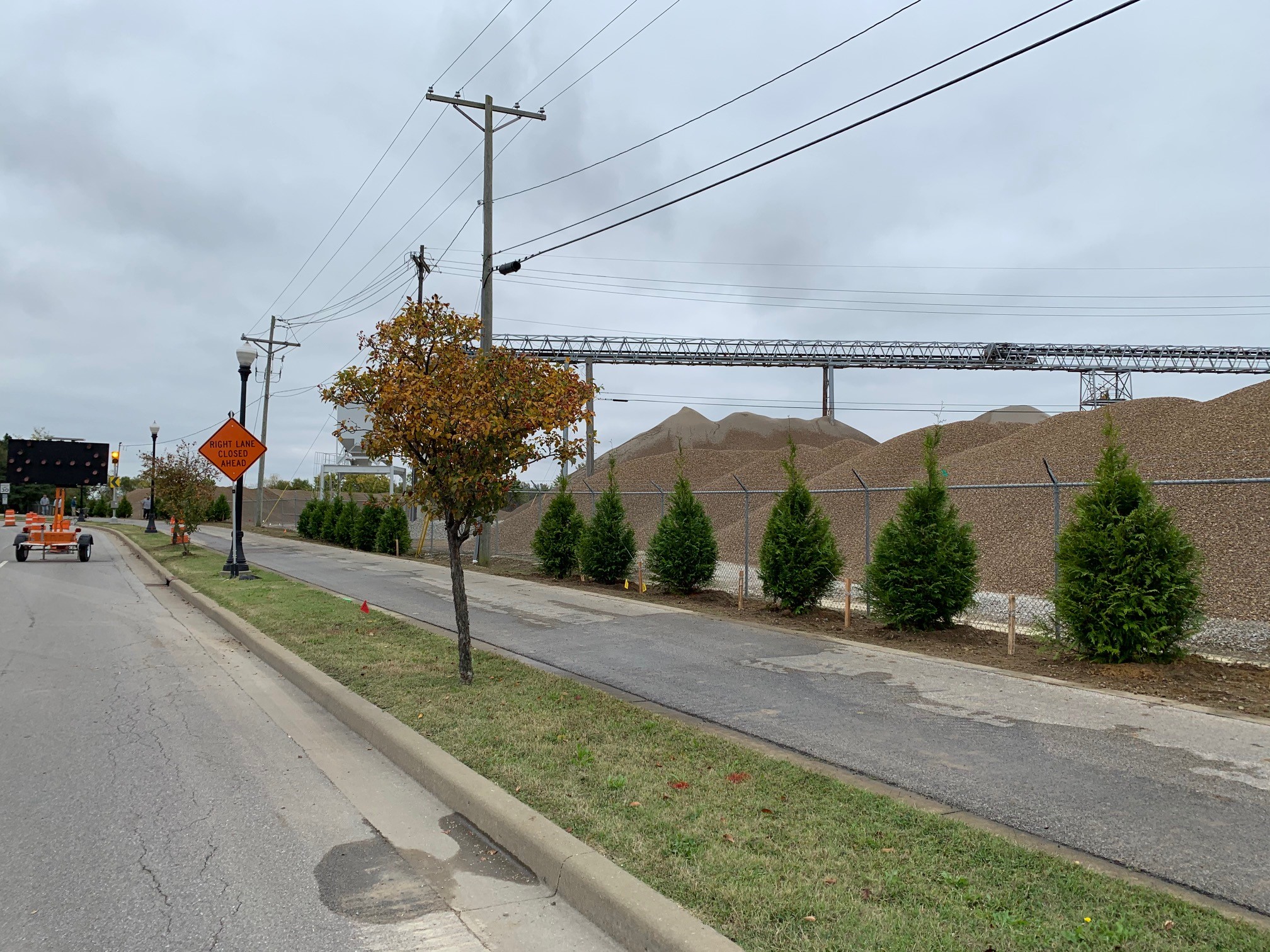 Pigeon Creek Greenway Passage and the existing fence at the Mulzer Crushed Stone gravel yard. The landscaping project continues south along Fulton Avenue, from the intersection at NW 2nd Street/Ohio Street, ending near the curve where Fulton becomes Riverside Drive.
"Almost 20,000 vehicles cross this point and hundreds use the Greenway through this area daily," said EID President Josh Armstrong. "We know that beautifying this space will create positive impressions of Downtown Evansville for residents, workers, visitors and commuters alike. The landscape area will frame views of Evansville's historic LST 325 tank landing ship and the new LST Visitors Center as well."
The Evansville Water and Sewer Utility (EWSU) construction in Sunset Park plays a role in this enhancement of Downtown Evansville. The City of Evansville's Tree Advisory Board requires the utility to plant two trees for each single tree removed as part of construction projects related to the EWSU Renew Evansville program, the city's response to a federal mandate to dramatically reduce combined sewer overflow discharges into the Ohio River. For the past two years, Keep Evansville Beautiful (KEB) has been working with the Utility to mitigate trees removed during utility construction. KEB will water and maintain the trees for a period of two years to ensure their long-term success.
"Keep Evansville Beautiful has been a great partner to work with in making our region more attractive to residents and visitors to the downtown area, and we look forward to expanding our collaboration through the efforts of the Economic Improvement District," said Evansville Water and Sewer Utility Deputy Director Mike Labitzke. "This expanded partnership brings in experts to help us adhere to the tree mitigation requirements set by the Tree Advisory Board, while allowing our project contractors to focus on their core competencies of building utility infrastructure. In the end, we get tree experts mitigating trees at a lower cost than our prime contractor would charge."
"While tree mitigation is required, the EID has leveraged our rate-payers' assessments to create a more landscaped approach for this entry into Downtown Evansville," said Armstrong. The project includes multiple species of deciduous and evergreen trees, ground prep, drainage grading, and fresh mulch. He added, "Upon entering Downtown, people will be greeted by a stand of specimen columnar gingko trees, followed by a seasonal display of color, blooms and leaf forms. Offering our rate-payers an improved gateway by adding features beyond those the mitigation program requires will increase demand to visit, work and live in Downtown Evansville."
KEB Executive Director Julie Welch said, "This screen with its exceptional trees will bring additional charm to our downtown. It will be a feast for your eyes with the different colors and textures adding more vibrancy to our city."