Contact Us
Mayor's Office
1 NW Martin Luther King Jr Blvd
Civic Center Complex Room 302
Evansville, IN 47708
Get Directions
|
Location Details
Business: (812) 436-4962
TTY/TDD: (812) 436-4928
Hours: Monday-Friday, 8AM to 5PM CT
In This Department
Topics of Interest
Department Home
More Information
Request a Mayoral Proclamation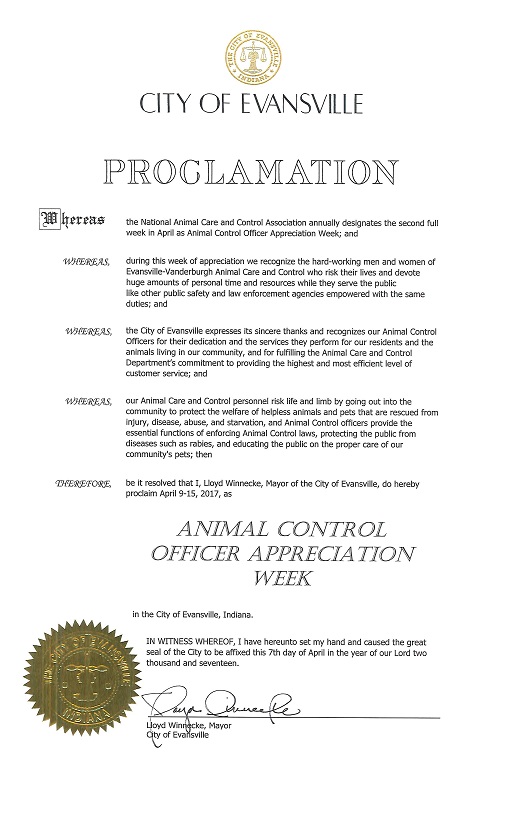 The Office of the Mayor generally issues proclamations in the City of Evansville at the request of local residents or organizations, to recognize the importance of community events, significant achievements by residents, and to acknowledge local, regional or national events.
Mayoral proclamations typically must have a specific connection to Evansville.
Scheduling
It is the Mayor's policy to not overlap proclamations; therefore a specific day cannot be a proclamation for both Mr. John Smith Day and Mrs. Patty Jones Day – or a specific week cannot be both Donut Week and Donate Blood Week.
Appropriate requests are processed on a first-come, first-served basis.
Production Time
Proclamations requested at least 1 month in advance have the best chance of being completed and provided to the requestor by a specific date.
Provide at least 10 working days for production of any approved proclamations.
Proclamation Language
In order to have your proclamation fit correctly within the design format, we recommend only 4 or 5 "whereas" statements. The Mayor's Office has final approval on all proclamation verbiage and may edit submitted language.
Proclamation Examples
To see examples of previously issued mayoral proclamations, click here.
Originals
We provide 1 original proclamation. Proclamations are printed on 8.5" x 14" official paper with a gold-embossed city seal.
Pick-Up
Please make arrangements to pick up your signed proclamation at the Mayor's Office before the event. The Mayor's Office does not mail original proclamations.
Request a Mayoral Proclamation

Download a Request a Mayoral Proclamation Form. It is a Word document you'll be able to open and modify with details and information.
Questions - please call (812) 436-4962.