Contact Us
In This Department
Topics of Interest
Department Home
More Information
Sidewalks and Curb Ramps
Barrett Law Sidewalk Replacement Program
DUE TO THE REDUCED FUNDING THERE WILL NOT BE A BARRETT LAW REPLACEMENT PROGRAM PROJECT IN 2020.
Evansville's Sidewalks
In 2005, the City of Evansville adopted a sidewalk policy that gives property owners the opportunity to participate in the cost of having their sidewalks replaced.
Under this new policy, for petitions submitted BEFORE January 1, 2006, petitioners may be eligible to have their sidewalks replaced on a 25% property owner/75% city cost-sharing basis.
For approved petitions submitted AFTER January 1, 2006, the cost share would be 50% property owner/50% city. The details of this new policy are outlined in the Barrett Law Ordinance.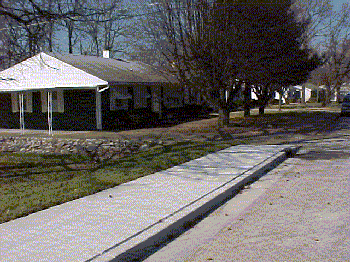 To participate in this cost sharing program, owners of record of the abutting property to the sidewalk requesting repair must complete a Sidewalk Repair/Replacement Petition Form and mail it to the following address:
City Engineer's Office
321 Civic Center Complex
1 N.W. Martin Luther King, Jr. Blvd.
Evansville, Indiana 47708-1833
Included in this program is a provision for property owners to petition for 'full block' replacement sidewalks.

This petition is not binding, but serves as the first step in determining if the sidewalk for which repair is being requested meets the minimum criteria.
Before any sidewalks are replaced under this program, cost estimates would be prepared, public hearings would be held, and affected property owners would be notified.