Pump Operation Levels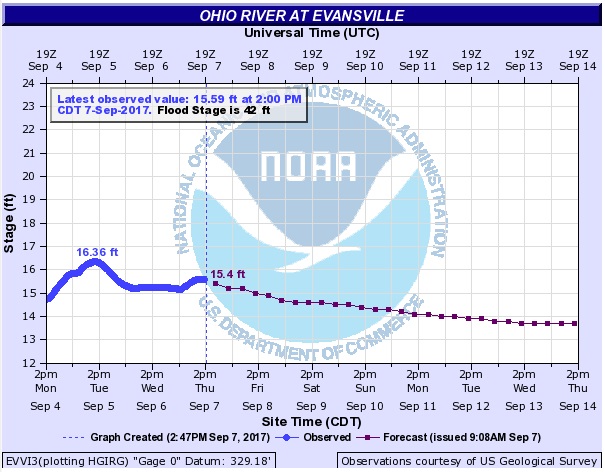 The forecasted level of the Ohio River at Evansville can be found at the National Weather Service Advanced Hydrologic Prediction Service website.
Levee Authority staff monitors river stages. When the river stage rises to certain levels, pump stations located around the city are opened
This chart shows the 18 pump stations and the levels at which they are activated.
| | |
| --- | --- |
| PUMP STATION NAME | OPEN AT RIVER STAGE |
| K4 | 26' |
| K5 | 29' |
| K3 | 32' |
| SYCAMORE | 34' |
| OHIO | 34' |
| H4 | 34' |
| K2A | 35' |
| DIAMOND | 36' |
| H6 | 36' |
| DELAWARE | 36' |
| DRESDEN | 37' |
| H7 | 38' |
| SIXTH AVENUE | 39' |
| FIRST AVENUE | 40' |
| K1 | 43' |
| H8 | 43' |
| STRINGTOWN | 44' |
| 41W | 46' |