Complaint Information Process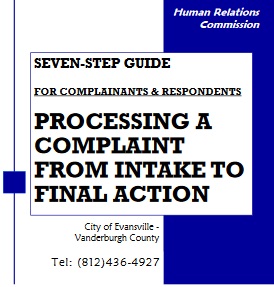 Download the 7-step informational brochure for complainants and respondents titled "Processing a Complaint from Intake to Final Action" by clicking here.
7-STEPS TO PROCESSING A COMPLAINT OF DISCRIMINATION
1. FILING A COMPLAINT
WHO - Any person claiming to be a aggrieved by a discriminatory practice or act contrary to the provisions in the City-County law may file a complaint with the City-County Human Relations Commission.
WHEN - A complaint must be filed within 90 days from the date of occurrence of the discriminatory act (except in housing cases).
A complaint alleging a discriminatory housing practice must be filed within 1 year after the discriminatory act has occurred.
HOW - Complaints may be filed either by personal delivery, US Postal Service mail, or FAX. If needed, the HRC staff will provide assistance in drafting and filing the complaint. The complaint must be in writing and signed under penalties of perjury.
WHERE - Human Relations Commission, 1 NW Martin Luther King, Jr. Blvd., Rm 209, Evansville, IN 47708.
2. INVESTIGATION
The HRC investigator's job is to collect and summarized the evidence. The investigator must collect the best evidence available for each side. Thus,you may be asked to supply documents that support your position.
The investigator will seek information to compare the treatment given the Complainant to that treatment given to other similarly situated individuals or groups.
Three may be an attempt to discuss the issues and settle the case. Your lawyer is welcome to participate in the investigation, but a LAWYER IS NOT REQUIRED.
The HRC investigator may also request that a test be performed during the investigation. Testing is a controlled method to determine differential treatment in the quality and content of information and/or services given in order to discovery any discriminatory practices.
NOTE: You may have other rights or causes of action that do not fall under the jurisdiction of the City-County Human Relations Commission. If you feel you do, you should contact a lawyer.
3. EXECUTIVE DIRECTOR'S DETERMINATION
If no settlement has been reached, the facts and recommendations are presented to the executive director who reviews the material and makes a determination whether there is probable cause to believe that an illegal act of discrimination occurred. The complainant has 15 days to ask for reconsideration of a 'no probable cause' finding.
4. CONCILIATION SETTLEMENT
If probable cause IS found, a formal attempt to resolve the case will be made. If settlement is achieved, a written Consent Agreement will be issued for signature by all parties. The agreement is then submitted to the Human Relations Commission for consideration. When approved, a Consent Agreement has the same affect as a Final Order.
5. PUBLIC HEARING
If settlement fails, the case is tried at a public hearing. Respondent must hire its own private attorney to represent its claim. The burden of proof is on the complainant. A Hearing Officer presides at the public hearing.
Proposed findings are issued by the Hearing Officer and submitted to the HRC. Either party has 10 days to file objections to the recommended findings. An oral argument on objections may be held before the full Commission.
6. FINAL ORDER
A Final Order by the Commission is binding. Either party may seek judicial review.
7. REMEDIES
If the Commission finds discrimination has occurred, a Final Order may include a cease and desist order and require further affirmative action that would eliminate discrimination. This might include reinstatement to a job, monetary relief where evidence showed there was some resulting loss, making a house or apartment available, and/or validating selection devices. Reasonable attorney's fees and costs may be awarded to the prevailing party in housing cases.
DISCRIMINATION PRE-INTERVIEW FORM
Submit a Discrimination Pre-Interview Form here.