Sections of the Pigeon Creek Greenway
Sections & Landmarks of the Pigeon Creek Greenway
Industrial Corridor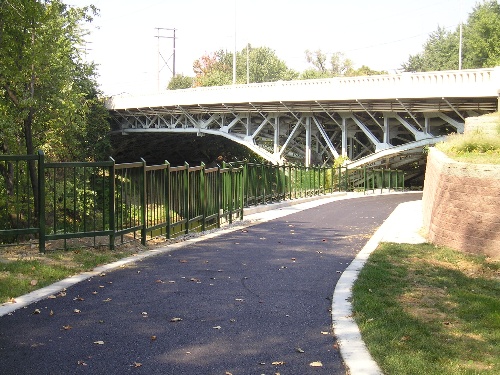 The Industrial Corridor is a 3.5 mile trail between the Riverfront Corridor and the Middle Levee Corridor. The Industrial Corridor is located on the Pigeon Creek Levee starting at Fulton Avenue and Riverside Drive, along Fulton Avenue to John Street and then west to the Mead Johnson Trailhead. The trail then follows the levee along Pigeon Creek to the Uhlhorn Trailhead. Phase 4 of the Industrial Corridor, Louisiana Street to Dresden Avenue was completed in 2012.
Marchand Bridge Overlook
The Marchand Bridge Overlook is located at the mouth of Pigeon Creek on the Ohio River. This 1891 Pratt Truss Bridge was dedicated on October 21, 2009 into an overlook for the Greenway Passage. The former Ohio Street Bridge was funded from Riverboat funds and from a Transportation Enhancement Grant from INDOT. The bridge is linked with the Industrial Corridor across Ohio Street.
Shirley James Gateway Plaza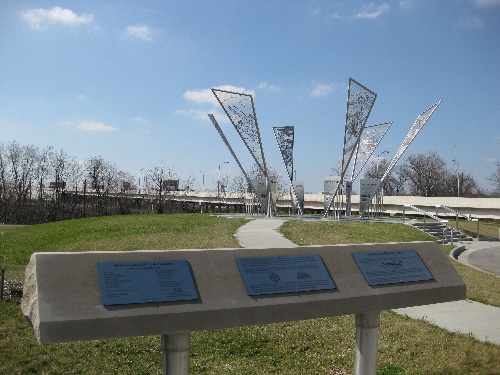 The Shirley James Gateway Plaza is a tribute to Mrs. Shirley James for her dedication and service for the Pigeon Creek Greenway Passage. Designed by VPS Architects and RhodesWork, Ltd. the Plaza shows the different impacts transportation has made on Evansville's progress. The Gateway Plaza is located along the Pigeon Creek Greenway Passage south of the Lloyd Expressway at the Mead Johnson Trailhead,; 1501 W. John Street. The structures depict six different forms of transportation. The Greenway Historic Committee researched and wrote the text for the history panels telling how transportation made Evansville into a commercial center.
Riverfront Corridor
The Riverfront Corridor is located along Evansville's downtown from Sunrise Park to Tropicana Casino. The 1.5 mile trail goes by the Evansville Museum of Art, History, and Science, the Evansville Pagoda, Convention and Visitor Bureau, the Four Freedoms Monument and Dress Plaza. Trailheads are located at Sunrise & Sunset Parks, the Evansville Museum and at the Evansville Pagoda with parking and restrooms available during operating hours.
Middle Levee Corridor
The Middle Levee Corridor was the very first trail constructed by the City of Evansville. The trail starts at the Heidelbach Canoe Launch and follows the Pigeon Creek Levee for 1.7 miles. Parking is available at the Heidelbach Canoe Launch, Garvin Park Trailhead and at the Animal Control Center (limited spaces available) near the Uhlhorn Trailhead.