Contact Us
Brian Holtz
,
Executive Director
Parks and Recreation
100 E Walnut St
C.K. Newsome Community Center
Evansville, IN 47713
Get Directions
|
Location Details
Phone: (812) 435-6141
Fax: (812) 435-6142
TTY/TDD: (812) 436-4928
Hours: Monday to Friday: 8:00 am - 5:00 pm
In this Department
Topics of Interest
Department Home
More Information
Parks & Recreation
Adult Sporting Events - Immediate Release
EVANSVILLE, IN (October 13, 2020) Due to rising COVID-19 cases in our community, Evansville Parks and Recreation Department will be postponing all adult indoor sporting events. To help mitigate spread, the postponement will be in effect throughout the duration of Mayor Lloyd Winnecke's Executive Order 2020-4, starting October 19, 2020. Events include: Indoor Volleyball, Pickleball, Shuffleboard, Table Tennis and Adult Hockey at Swonder Ice Arena. Safety of the participants is our number one concern. We will continue to monitor daily COVID-19 cases reported in Vanderburgh County. All updates pertaining to adult sporting events will be posted on our social media pages, as well as websites. We appreciate everyone's understanding and patience in this matter.
View City Trails information in Evansville to walk, bike, or hike at walkbikeevv.org
Practice social distancing to help stop the spread of COVID-19.
The Department of Parks & Recreation coordinates and oversees the operation of 65 parks and 21 recreational facilities encompassing more than 2,500 acres of land in the City of Evansville and Vanderburgh County, Indiana.
To SUBSCRIBE to the Evansville Parks and Recreation quarterly newsletter to learn about all parks news and upcoming events!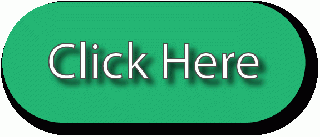 To view the current newsletter.
-------------------------------------------------------------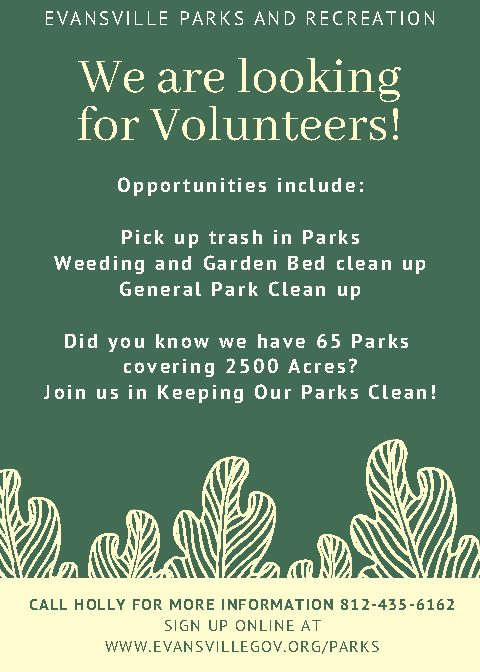 To sign up to volunteer:
-------------------------------------------------------------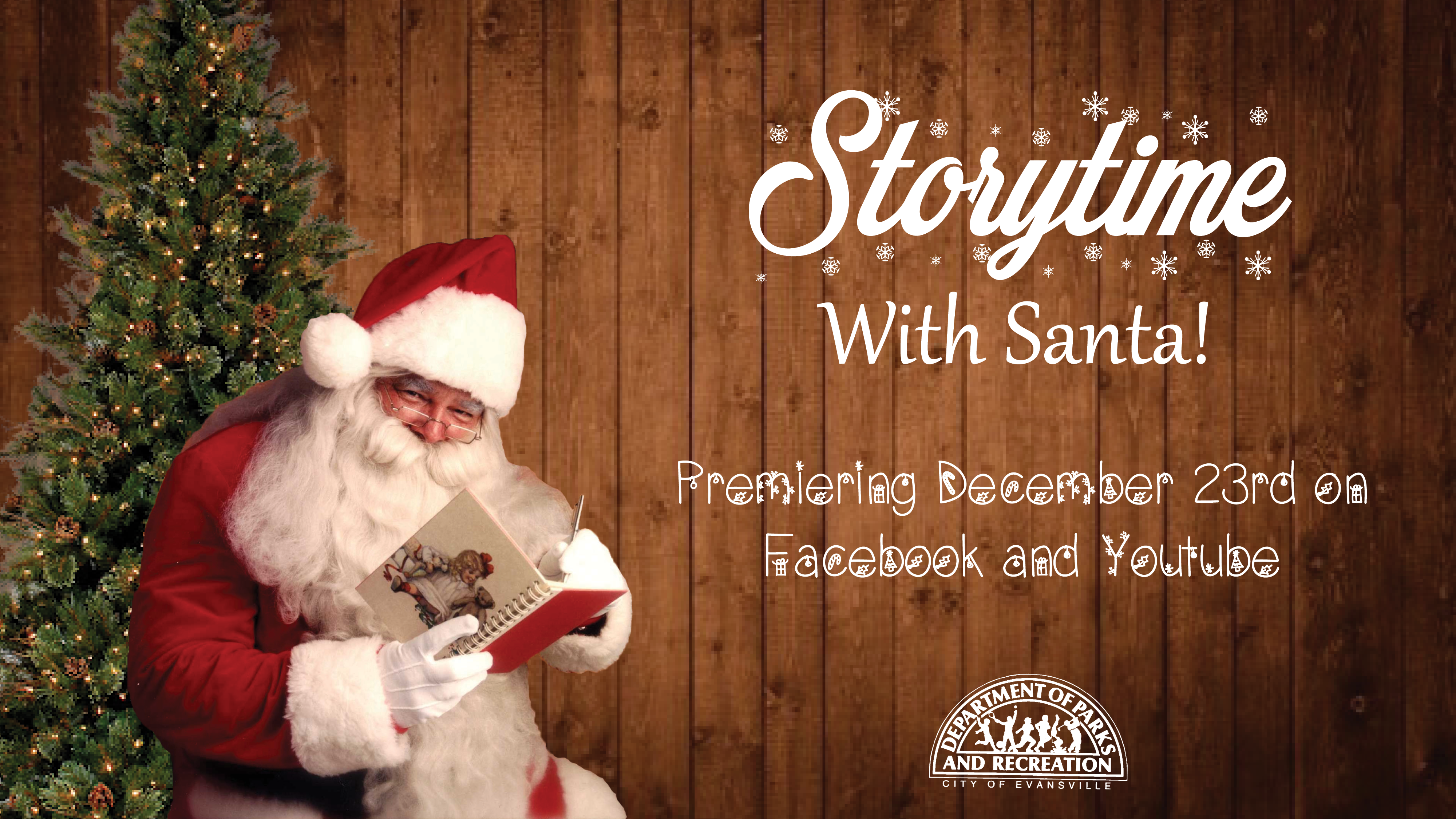 Hear a story from Santa himself!
Check out the video HERE
-------------------------------------------------------------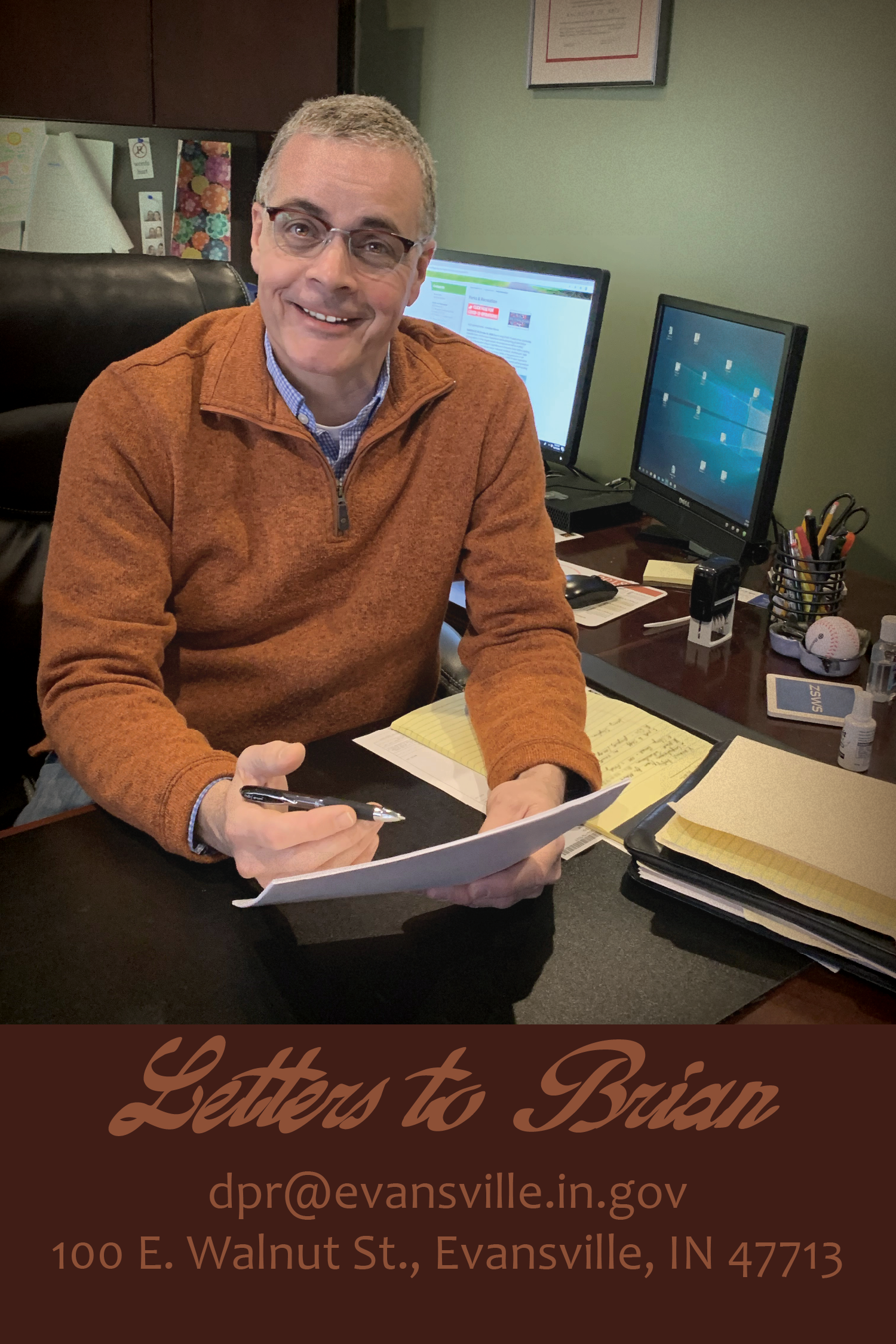 We want to hear from you!
Send in your compliments and positive comments about the Evansville Parks and Recreation Department to our Executive Director, Brian Holtz. Selected 'Letters to Brian' will be read aloud by Brian and recorded for you to view on our social media posts. Send in your letters via e-mail or snail mail
with subject line: Letters to Brian
dpr@evansville.in.gov or 100 E. Walnut St., Evansville, IN 47713
-------------------------------------------------------------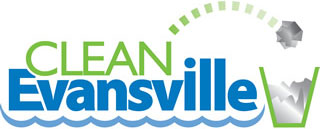 At this time, the Clean Evansville events have been CANCELLED.
The Clean Evansville anti-litter campaign is a joint effort of the City of Evansville, keep Evansville Beautiful and volunteer members of the "Clean Committee". The goal is to involve the entire community in picking up trash as well as targeting specific areas for clean up on a monthly basis. For more information including dates and to sign up to volunteer, visit http://www.cleanevansville.org
-------------------------------------------------------------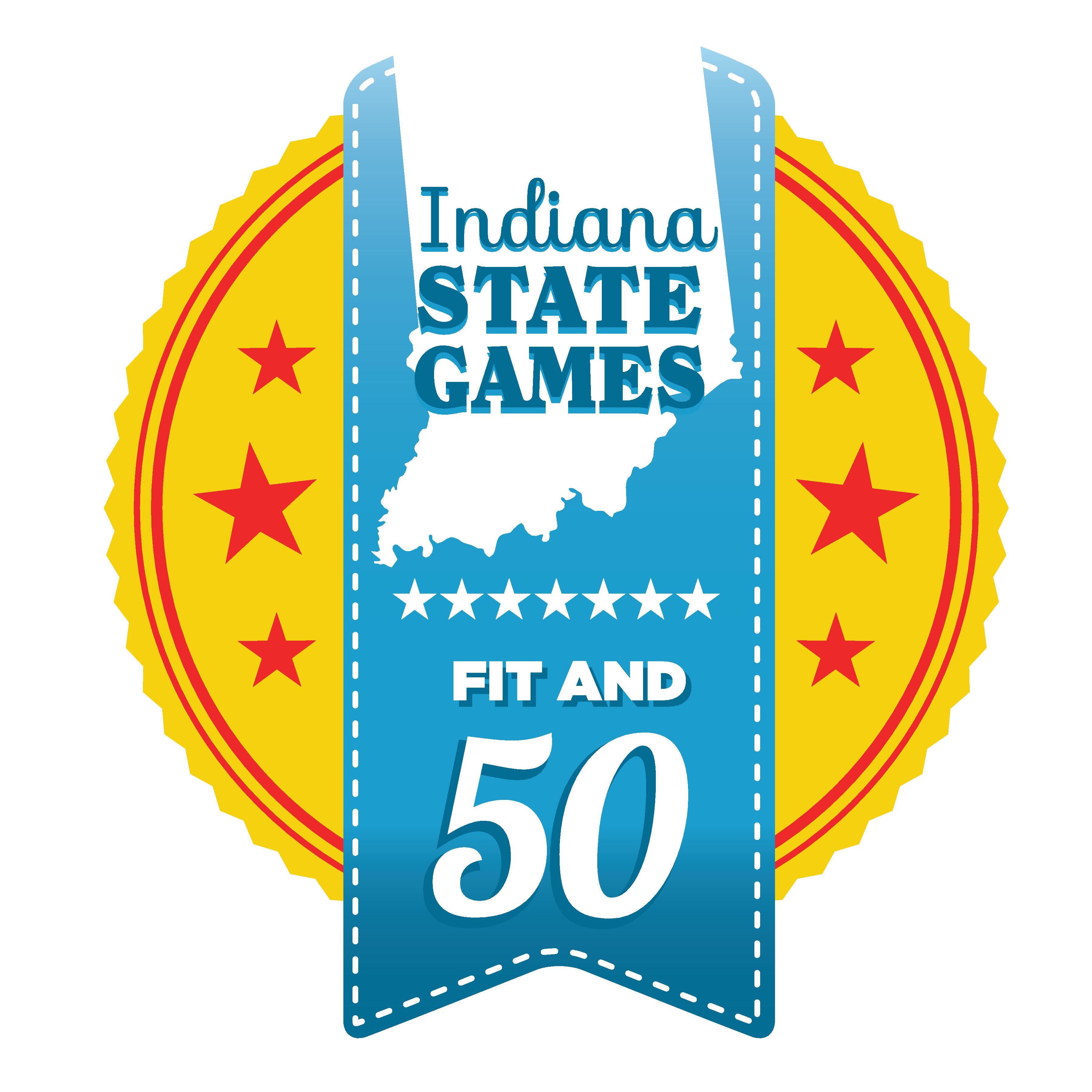 Indiana State Games
Fit and 50
The senior Olympic style events for those over 50 for the state of Indiana hosted in Evansville. Save the dates for 2021
June 3 - 14, 2021
Persons age 50 and over compete in recreational and competitive sporting events in five year age increments; 50-54, 55-59, 60-64, and so on. The top three winners in each age, gender, and sport win Gold, Silver, and Bronze! There is something for everyone with over 25 sporting events to choose from...get into the game today!
For more information contact Holly at 812-435-6162 or e-mail IndianaStateGames@gmail.com
Visit the WEBSITE Click Here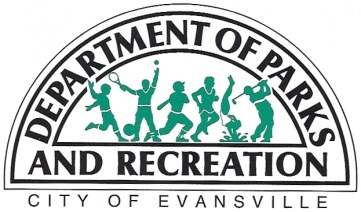 Parks COVID Update

Thursday, June 11, 2020

Stay up to date with the Evansville Parks and Recreation COVID information.