Joint Central Dispatch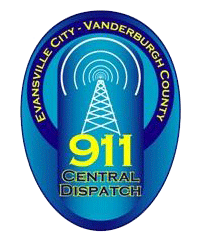 The Evansville City / Vanderburgh County Joint Department of Central Dispatch provides radio and communications services for the Police and Fire Departments in the City of Evansville, the Sheriff's Office and Suburban Fire Departments in Vanderburgh County, and other departments.
Connections to the National Crime Information Center (NCIC) and the Indiana Data and Communications System (IDACS) are also provided to public safety agencies along with the Prosecutor's office and Courts.
Central Dispatch is the public safety answering point (PSAP) for all local 9-1-1 wireline and wireless (cellular) telephone calls from the public.
Central Dispatch is made up of 42 employees including a director, deputy director, office/finance manager, 7 supervisors, 1 communications specialist, and 31 9-1-1 operators. Telecommunicators are members of Teamsters Local 215.
Representatives from city and county government make up the 9-member board oversees the general operations. Management of all criminal justice systems is vested in the executive board consisting of the sheriff, police chief, fire chief, and suburban fire appointee.
National Emergency Number Association (NENA)
NENA is "The Voice of 9-1-1" and the only professional organization soley focused on 9-1-1 policy.