Contact Us
City Engineer
1 NW Martin Luther King Jr Blvd
Civic Center Complex, Room 321
Evansville, IN 47708
Get Directions
|
Location Details
Phone: (812) 436-4990
Fax: (812) 436-4976
TTY/TDD: (812) 436-4952
In This Department
Topics of Interest
Department Home
More Information
Resources & Information
Resource Materials and Informational Sites
Many informational websites and materials are available at your fingertips. As a part of our attempt to education the public and make citizens aware of the effects we can have on our environment, we want to direct you to those sites quickly and easily.
Clean Water Act Municipal Separate Storm Sewer System (MS4) Video Partners
The Tippecanoe County Partnership for Water Quality and Muncie Sanitary District partnered with other MS4s in the state to produce and release a second video project to be used by all MS4s for educational purposes. The statement below explains why stormwater quality is important for our community.
"The Clean Water Act Municipal Separate Storm Sewer System or "MS4" program requires regulated communities to implement an overall stormwater quality program. Completed in 2016, this 8 minute video features MS4 communities' experienced, elected officials giving their advice and recommendations on why the MS4 program is important and explaining how it helps them with their duties. Newly elected officials can benefit from this experience and gain a brief overview of the MS4 program. The video also reviews the main requirements that regulated MS4 entities must implement to be in compliance with their permits."
Stormwater Pond Maintenance for Homeowners
This 8-minute video completed in 2016 describes the steps to maintaining a residential stormwater management pond. The primary target audience is home or property owners' associations, but residents living in a community with a stormwater pond can benefit from this information too.
Topics covered include an explanation of a stormwater pond, the purpose of the pond, why some ponds fail, what to look for when inspecting the pond, expert tips on maintaining the pond, and how this on-going, needed maintenance is typically funded.

Education in Water
Indiana Department of Natural Resources have educational programs that the City of Evansville can bring to your school, club, organization, Boy Scout or Girl Scout troop, or day camp.
Project WET
We are trained as Project Wet Facilitators and look forward to providing your organization or class with a fun filled 1-2 hour activity oriented environment focused on water quality issues. For more information on this program visit the ProjectWet Area on DNR's website. Project WET
Another program available for citizens to get involved in through Indiana Department of Natural Resources is Hoosier Riverwatch Volunteer Water Monitoring.
Hoosier Riverwatch
Citizens can be trained to monitor streams and to provide the information to DNR about the results and water quality. For more information on this program visit the Hoosier Riverwatch Area on DNR's website. Hoosier Riverwatch
Water Words that Work
The following Link will help prepare students for a speech, lesson, newspaper article, or just allow a person to best get a message across by the words chosen in discussions. Follow the link to better educate yourself on what words can be used to get that message across.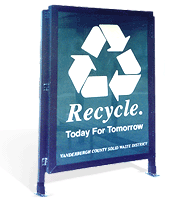 YOU CAN HELP...
Solid Waste Management Recycle Days
Tox Away Days
other programs
Visit the Solid Waste Management District webpage for information about recycling.