Accessing the VPN
Accessing your CIVICNET PC
– You will repeat these steps every time you wish to access your Civicnet PC.
CONNECT TO VPN
Open the Cisco AnyConnect Secure Mobility Client from the Start Menu.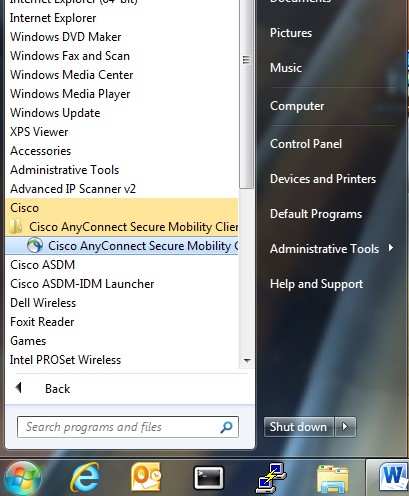 Connect field should display vpn.evansville.in.gov. If not, type it in.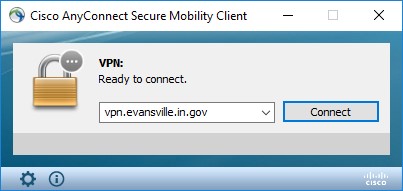 Select your GROUP from the drop-down list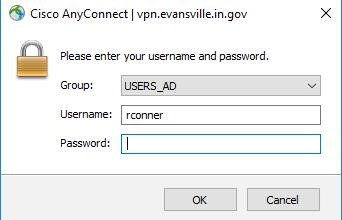 Select:

USERS - if you had an active VPN account prior to 03/13/2020 and it did not use your CIVICNET credentials
USERS_AD - if you are new VPN user, 03/13/2020 or LATER, using your CIVICNET credentials
VENDOR = EXISTING VENDORS WITH VPN ACCOUNTS
If you are in the USERS_AD group enter -
Civicnet\<your-username> and your Civicnet password
-or-
if you are in the USERS group -
your VPN Username and password
Click "OK"
You should see a prompt that VPN has connected and see a notification icon in the system tray in the bottom right corner of your screen showing a locked padlock to indicate VPN is connected.
To disconnect the VPN
Right click the VPN icon (globe with locked padlock icon) in the Status Bar.
Select 'Quit'
The VPN will disconnect and the Anyconnect client will close.