Contact Us
City Engineer
1 NW Martin Luther King Jr Blvd
Civic Center Complex, Room 321
Evansville, IN 47708
Get Directions
|
Location Details
Phone: (812) 436-4990
TTY/TDD: (812) 436-4952
Fax: (812) 436-4976
In This Department
Topics of Interest
Department Home
More Information
Brute Bin - Floating Trash Collection System
Elastec, the largest manufacturer of oil spill cleanup and surface water pollution equipment in North America, contacted the Evansville City Engineer's Office (Storm Water Management) in late 2016 requesting to test a new product in the City of Evansville.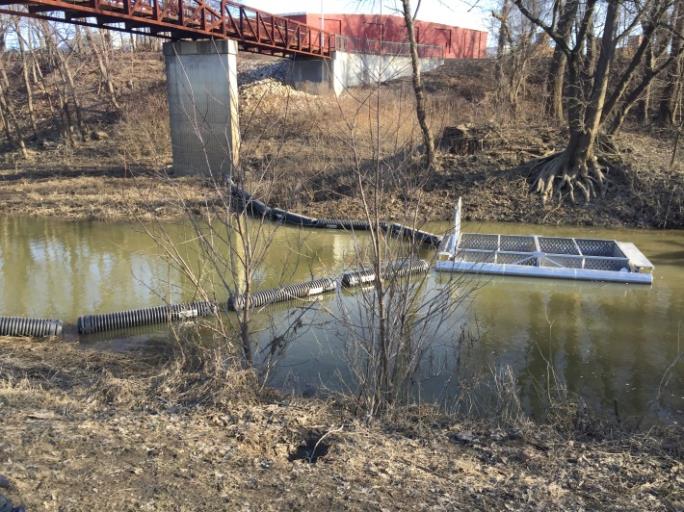 The Brute Bin is a floatable trash collection system designed to collect and contain floating trash. Those floatables are contained in a basket, then emptied and disposed of properly.
The partnership between the City of Evansville and Elastec was formed, and on February 1, 2017, the Brute Bin was installed at an outfall into a Tributary to Pigeon Creek.
The Brute Bin was assembled at the Port of Evansville and towed to the installation site up Pigeon Creek to Lamasco Park. The Elastec crew connected the legs of the Brute Boom, then connected and secured the Brute Bin.
The agreement between the City of Evansville and Elastec states that Elastec will install and maintain the system for 6 months in order to test the product.
The City Parks Department is providing a trash dumpster at the location for the trash to be deposited and disposed of properly.