Contact Us
In This Department
Topics of Interest
Department Home
More Information
Fire Marshal/Inspections
The Evansville Fire Department Fire Prevention Division provides inspection services for commercial businesses within our community.
The Fire Prevention Division is staffed by the Chief Fire Marshal and seven Fire Marshals. Fire Marshals provide information and training regarding Fire Prevention and Safety, plan review, State and local burning regulations and fire code related topics (Indiana Fire Code).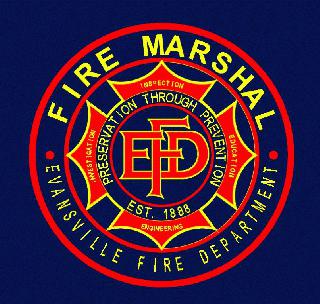 Evansville's business community consists of multi-story high rise office buildings, places of worship, retail, light industrial, medical and numerous educational facilities. The goal of the Fire Prevention Division is to inspect all commercial, educational and medical facilities on an annual basis. Our community possesses over 7000 commercial businesses within the Evansville Fire Department's jurisdiction.
The Evansville Fire Department Fire Prevention Division has a seat on the Plan Review Committee (PRC). The Plan Review Committee meets weekly and reviews the plans for new commercial construction and residential development. Fire Marshals work closely with the Building Commissioner's Office, which issues building permits for our community. Before new commercial structures are allowed to be occupied, a fire code inspection by the Evansville Fire Department is required.
Evansville Fire Department Fire Marshals review building plans to ensure that fire sprinkler, fire alarm, and fire suppression systems are properly installed. EFD Fire Marshals conduct inspections at different times throughout the construction phase of new projects to ensure that contractors are adhering to all recognized adopted codes and standards. Those codes include, but are not limited to, Indiana Fire and Building Codes, local ordinances and various National Fire Protection Association standards that have been adopted by the State of Indiana.