Contact Us
In This Department
Topics of Interest
Department Home
More Information
Fire Marshal/Investigations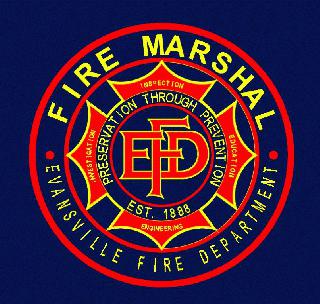 The Evansville Fire Department Investigation unit is comprised of three full-time fire investigators with a combined total of 41 years of experience investigating all types of fire and explosion scenes.
All three investigators are certified by national or international fire investigation organizations with one investigator being dual certified.
The City of Evansville and other jurisdictions benefit from the expertise of these well trained and experienced fire investigators. On many occasions the investigators have traveled to other local jurisdictions to assist in complex, large loss and fatal fire investigations. They have also assisted in investigations in Indianapolis, New Albany, Princeton, Vincennes and Newburgh, Indiana and Kentucky. The Investigation unit conducts an average of 264 investigations annually.
The Investigation unit has the final determination of the cause of the fires that they investigate and if they determine that the crime of arson has occurred, they work closely with local, state and federal police agencies in investigating the crime. Their work ends when the case is adjudicated in the court system.
Fire Investigations Report 2010:
Accidental - 167
Incendiary - 90
Undetermined - 22
Civilian Injuries - 38
Civilian Fatalities - 4
Investigations - 282
Arson Arrest - 18
Photos Taken - 4000
Arson Canine Program
Since 1993, State Farm® has been a sponsor of the Arson Canine Program. State Farm works in conjunction with Maine Specialty Dogs and the Maine Criminal Justice Academy to train ten (10) canines and handlers a year. There have been over 200 canine teams placed within departments and law enforcement agencies throughout the U.S. and Canada. The Evansville Fire Department has been accepted into the program twice in the last 18 years. Murphy was the department's first arson canine. Sadie is the department's current arson detection canine. Sadie is scheduled to be retired within the next two (2) years. The Evansville Fire Department applied for and was accepted to once again participate in the Arson Canine Program in 2011.
New Arson Investigator Vehicles
The Investigation Division replaced two (2) Arson vans with two (2) Ford F-150 extended cab pickup trucks especially designed to carry fire investigator equipment and the arson canine. The truck beds are equipped with slide-out trays and an LED emergency light package.