Contact Us
Civic Center Complex
1 NW Martin Luther King Jr Blvd
Evansville, IN 47708
Get Directions
|
Location Details
Phone: (812) 435-5248
Fax: (812) 435-5341
Hours: M - F 8:00 a.m. - 4:30 p.m.
Topics of Interest
Department Home
Office Information
Duties:
The county treasurers of the State of Indiana are charged with the responsibility of being the custodians of all money belonging to the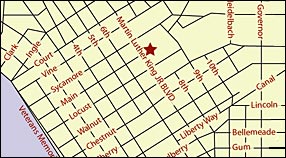 respective counties. The procedure may vary somewhat in counties using automated tax accounting, but the laws governing the conduct of the offices does not vary and the procedures followed must conform to the statues. The county treasurer collects local taxes including real estate taxes, personal property taxes, mobile home taxes, and state assessed taxes. Miscellaneous taxes collected through the county treasurer are inheritance taxes, innkeeper's taxes, and gross income taxes. The county treasurer also holds an annual tax sale of real estate.