Hazardous Materials Team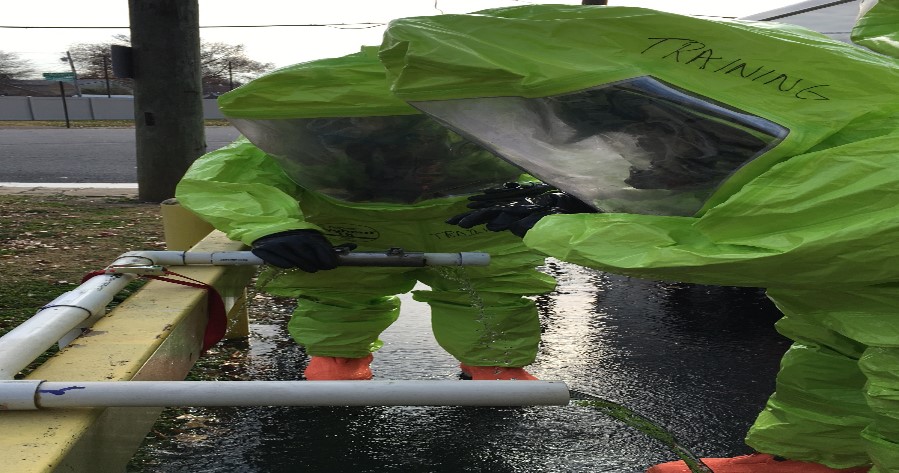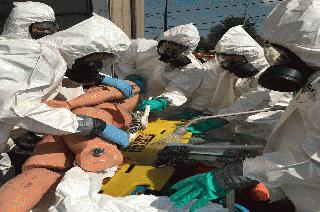 Applying a pipe sleeve in Level A- Deconning a non-ambulatory patient
The team consists of 52 firefighters who are trained as hazardous materials technicians stationed at Stations 1 & 10. They utilize our well-equipped Ferrara Hazmat Truck and 35' Hazmat trailer with Command Space. Should mass decontamination be required, firefighters will deploy our TVI decon tent capable of decontaminating both ambulatory & non-ambulatory patients. Therefore, allowing EFD to modestly and efficiently decontaminate patients involved in a chemical spill. Our hazardous materials team represents Southwest Indiana as the IDHS District 10 Weapons of Mass Destruction(WMD) asset, as WMDs are a hazmat incident with "an attitude".
Firefighters must undergo rigorous training to remain proficient and competent as hazardous materials technicians, thus training to identify unknown substances with a cadre of instruments on our hazmat trailer, or donning a "Level A" suit to stop a Chlorine leak. In conjunction with the Henderson Fire Department, seven members of EFD completed an 80-hour Hazardous Materials Technician class. The Kentucky Emergency Management hosted 40 hours of training, and the remaining hours were conducted at EFD involving extensive hazmat skills and knowledge. Firefighters Colton Blanchard, Lucas Macke, Pat Moore, Ian Pate, Jamie Phillips, Brad Roberts, and Rob Smith received their Indiana Hazardous Materials Technician Certifications. Hazmat team leaders Captains Shadrick, Kuhnel, and Bacon led numerous training evolutions including: bonding & grounding, flammable liquid fires, bio threat sampling, and leak control.
The objective of the Emergency Planning and Community Right-To-Know Act (EPCRA) is to: allow state and local planning for chemical emergencies, provide for notification of emergency releases of chemicals, and address communities' right-to-know about toxic and hazardous chemicals. Therefore, as a representative of the Vanderburgh County Local Emergency Planning Committee (LEPC), EFD received and recorded 185 Tier II facility reports, thus reporting 658 chemicals of reportable quantities within those facilities. District Chief Zuber is EFD's LEPC representative & Vanderburgh County LEPC Chairman. EFD assisted in writing a tabletop scenario to challenge Evansville's response plan during a chemical emergency.
In conjunction with the LEPC, a $6,300 Hazardous Materials & Emergency Planning(HMEP) training grant was written to obtain Action Training's hazardous materials educational series for response, incident management, containment, and decontamination. We also obtained updated hazmat chemical research resources for our hazmat library & training.
EFD Capital purchases for the hazmat team in 2017 included:
Biological Test Kits $5,300
Hazmat Protective Clothing $8,400
Rad/Nuc Detection Equipment $1,900
Decontamination berm $1,100
Hazmat meter maintenance $5,800
Chlorine kit upgrades $3,200